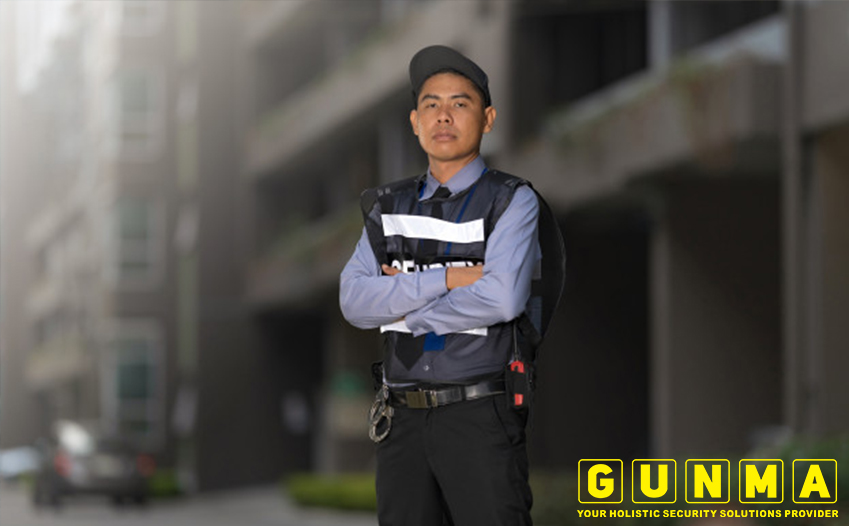 Static Guard
Static guards (unarmed) are available under Gunma Guardforce DS Sdn Bhd in protecting your secure the safety of building or construction site of yours. Static guards or as known as onsite security officer involve guards with less harmful security equipment that will bring no harm while performing their duty.

We provide skilled and experienced static guards that can effectively secure your building such as offices or warehouses, control the crowds, and politely handle any attempted burglary or theft cases.
Our onsite security officer will be able to take care of your valuable property for day and night with tight security check and inspections towards any visitors. Static guards provided by us do not only secure your building, but they will be a helpful hand in escorting your visitors or staffs every day or during emergency drill. Hiring onsite security officer is similar with having manually access system as our static guards will secure the in and out access of your building from unwanted personnel.
Prior to hiring the security personnel, we will conduct rigorous screening and assessment exercise. Only those who are physically fit and healthy (age range between 20 to 55 years old), disciplined and free from any criminal records are chosen. Once chosen, they are first required to undergo specialized security training and coaching to ensure that they are well presenteed and possess the ability to perform their duties and deal with the public in the best possible manner.
Our unbeatable reputation for high levels of service and professionalism is built on a strong foundation across 5 critical elements: We provide a wide range of corporate, private, leisure and events security options.
ADDRESS
HEADQUARTERS
No.1 Jalan Pusat Perdagangan, Bukit Emas 2-1,
Pusat Perdagangan,
Bukit Emas 2, 70450,
Jalan Tampin, Seremban,
Negeri Sembilan.
---

---
REGIONAL OFFICE SOUTHERN REGION
No.138-02, Jalan Adda 7, Taman Adda, 81100, Johor Bahru, Johor.
---
REGIONAL OFFICE CENTRAL REGION
No2-3 Jalan Puteri 4/2, Bandar Puteri, 47100 Puchong, Selangor.
---
REGIONAL OFFICE NORTHERN REGION
NO. 72, Tingkat 1, Jalan Tasek Mutiara 2, Bandar Tasek Mutiara, 14120, Simpang Ampat, Pulau Pinang.
---
REGIONAL OFFICE EASTERN REGION
No 23, Tingkat 2, IM 3/10, BIM Point, 25250 Kuantan, Pahang.
---
SABAH
No 18-0, Lot 38, Ground Floor, Jalan Berjaya 4, 88000 Kota Kinabalu, Sabah.
---
SARAWAK
No 304A, 1st Floor, Jalan Datuk Wee Kheng Chiang, 93450 Kuching, Sarawak.
---